What Our Students Say
Sorry, I will just share quick one. Before joining Blockchain Academy, I bought many online courses and even tried doing self-study, I'll tell you it is hard to understand. But after attending your training the other day, I was surprised with my exam score. You made a complicated subject seem so much easier. Thank you sir Amarjit, for all your help. I already pass my exam. Thank you so much.
Sarah P. - Singapore
Director, POS Systems
Hi! I just want to send you this email to say me and both my friends are happy and satisfied with the training. Thank you Ms Yaya for arranging our accomodation. One think I want suggest is if can next time we learn more programming for the front end GUI. But otherwise very very good training. Pls let Mr Amarjit know, I will sit for my CBP exam next month. Thank you.
Chan K. - Hong Kong
Intl Remittance Officer
Latest Posts
Just a few days ago I was in a meeting with my boss and to my surprise, the other party, […]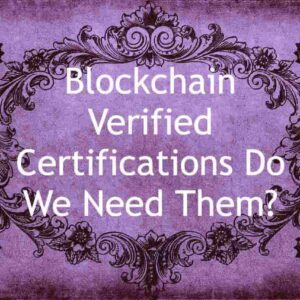 Before we dive into the aspect of blockchain verified certificates or digital certificates, let us first understand the stark reality […]
Wien Energie, being Austria's biggest energy provider has recently posted that they have come up with their very own blockchain […]
What Is Solidity? - Ethereum's Programming Language Supporting most if not all decentralized tech are tool kits that help and […]
Artificial Intelligence (Ai) v Big Data This is a strange enough question to start, so let me clarify. Putting […]
Fintech & Blockchain: Part of the same, but different… Blockchain, Fintech, surely these are a married couple and […]